First, read part I.
In part II we get into a specific case where your preachy writer had to choose between an ascetic conservationist approach and a crazed consumer approach, and chose crazed consumer.
I recently found myself in a quandary on the buying used issue. We needed to get some more luggage for the trip to Australia.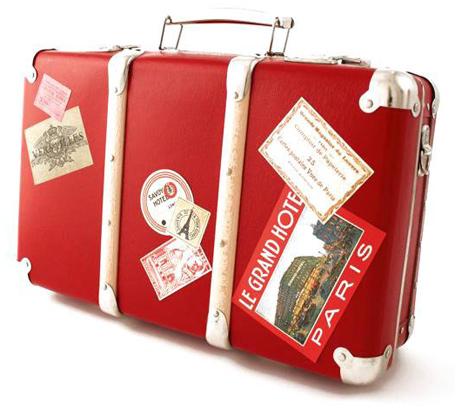 First, could we borrow some suitcases? Well, no. Not only did we plan to re-use the luggage, but we were also somewhat limited in our ability to borrow the bags we needed for two reasons: One, we don't have that many friends here in DC, and two, to return the bags from Australia would cost a bunch.
We wanted stuff we could keep, since Sharole and I want to travel, maybe as often as once a year. I have a very nice carry on bag which Sharole got me last year. I've used it on countless trips now, and it's really quite nice to have. Sharole doesn't have one, so we decided she would get a carry on as well. I then suggested we go for a duffel type suitcase, because they would fold down and not take as much space when they were not being used. We have one from Sharole's brother Seth which has been great, because when we're done using it, it just folds up and fits right inside another suitcase.
We sat down and worked out how many items we could carry on, and assigned items to each person. We needed to get three more large bags and a carry on for Sharole. We also needed two smaller bags, on wheels, for the kids to lug their own diapers and snacks in.
We tried to get used suitcases. We saw one ad on craigslist for two practically new suitcases, but we were not quick enough, they sold fast. For some reason there aren't a lot of listings for suitcases right now. I kept telling myself we should be able to settle for some junky ones, just to get us over the Pacific. The problem here, of course, was one of quality. Even low quality items can be recycled, true, but they don't last, and their value to others, i.e. selling it to someone else, falls off quickly. Low quality items fray at the edges, break at the seams, need repair, age in the wrong places, or one small part will break, rendering the rest of it partially or completely ugly, and partially or completely useless.
So a high quality used item is ideal. In the end we didn't find items that fit our needs 2nd hand, even on eBay. Has anyone else noticed they have shifted heavily towards new items, sold at comparable prices to online stores, and the actual used recycled stuff is rare?
So we bought two duffels that were over 30″, and probably could have gone for another large duffel, except I saw a Samsonite hardside that I simply had to have. Ever since my Atlantic vault hardsided suitcase was smashed by.. American? United? I forget at the moment, I have been pining for another of the same. They don't make that suitcase any more. The airline did replace my Atlantic with a Delsey, but I don't like it at all, because when one carries it, top or side, the lip pops out. The Samsonite I saw had the 30/70 lid, like the Atlantic, rather than the 50/50 like most suitcases. We will be using the Delsey to travel, but I plan to sell it on the other side, and keeping the Samsonite. We also got Sharole a nice lime green 21″ carry on, with a hard shell bottom and a cloth top for expandability.
To summarize, two things drove us to purchase new: The specific type of bags we were interested in, and our willingness to keep and reuse the stuff ourselves. Driven to buy, we were unable to find used items that fit what we wanted. Maybe our preferences were too specific, and could have been relaxed, but I didn't even see used items that would meet enough of the requirements to make it usable. We also justified going the purchase route by recognizing that Sharole's bag should get re-used, and the large bags would get re-used. The large bags were duffel style, so they'd collapse when empty, and wouldn't take a lot of storage space in between uses.